How to convert magnet links into .torrrent file in Firefox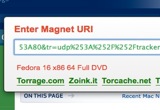 Some torrent servers do offer only magnet links instead of .torrent files. If you are curious what magnet links means please read the magnet link explanation on this link. If you have torrent client on the desktop (uTorrent, vuze), you are required only to configure your favorite browser to redirect magnet file to the desktop client. But what to do if you need to download the good old torrent file?
For Firefox browser, the solution is easy one. Download Magrent extension. Then right click on the magnet link and you will see two menus: Download .torrent and Open in Magrent panel.
The first one try to download .torrent file from torrent caching servers (by default from torrage.com, but you can change it in extension's Preferences/Options). The second one display Magrent panel where you can select torrent caching server manually and download .torrent by clicking on Convert button.